Through some research I'm working on featuring in TES Scotland, I was invited to join Larbert High School's Professional Development day on Digital Learning.
This post details what I saw when I visited from the perspective of how and why I believe that Larbert High School and Falkirk Council could easily lie on the fault lines of creative disruption and innovation in education within and across Scotland.
I also include some suggestions about the way innovative technology products could be rolled out.
Here's how yesterday's visit ties in with my ideas and research I've been working on over the last 2-3 years.
A Welcome Reception
The culture hits you the minute you step in the foyer, there are trophies and news clippings all over the place. Obviously this is no different to many schools and college receptions but, at the same time, it is different.
Myself and a few of my EdTech colleagues are convinced that you can tell what a school or colleges' Ofsted rating is by the reception area.
I am met by Martin Shields (
@MrShieldsLHS
), a probation PE teacher who has been empowered to lead the Twitter session. This may be seen as a brave move for a teacher whose only been in the role for two months, as this may be the first interaction he has with some members of staff so you'll be keen to make a good impression.
Educators have stand up and speak in front of students everyday, but to present in front of you colleagues is nerve wracking in any industry as you're keen to impress in front of your peers.
Just as it might have been easier for Martin to say "Erm no thanks," it may have also been easier for my host for the day, John Doherty, to say "Oh I'll just do the session myself... it'll be quicker and better that way."
This may be what would happen at a Stage 3 "I'm great, you're not" organisation... but you get the sense that "That's not the way we roll at Larbert High."
Larbert staff might not know the reason why "that's not how they roll" ...But I think I do. They appear to be a Stage 4 team (A stage that only 22% of organisations in any sector achieve), according to Dave Logan's "
Tribal Leadership
" research;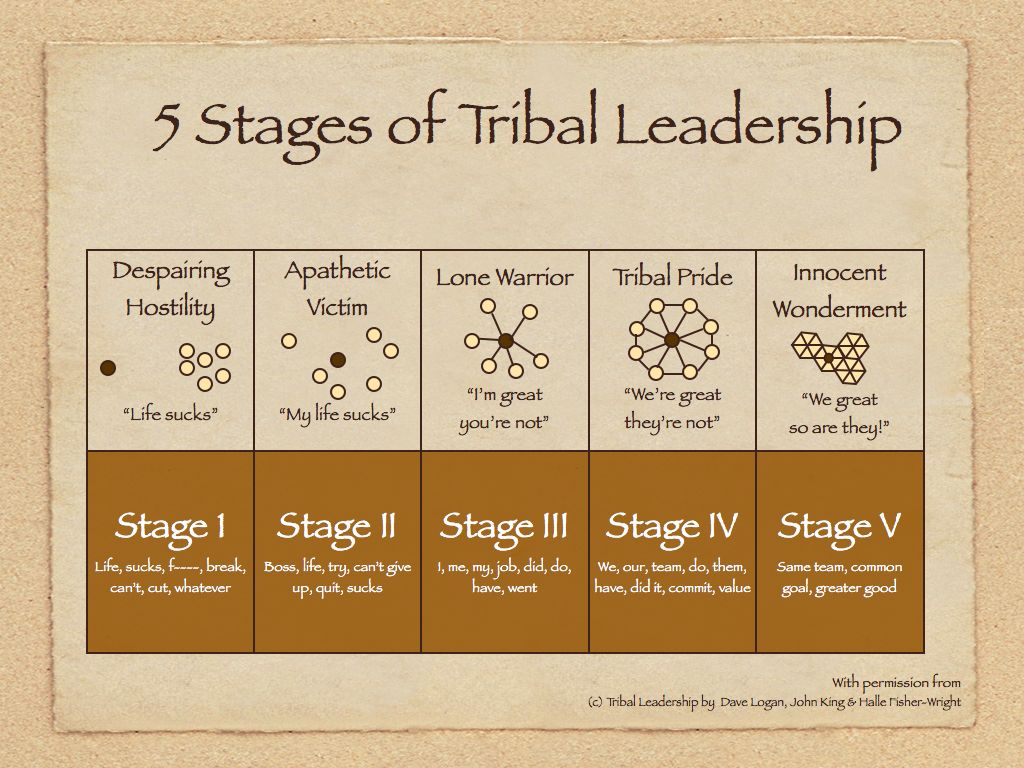 My question to Larbert High staff and Falkirk Council is this:
Can they become a stage 5 organisation?
In my opinion, they could easily become one. More on that in some future posts.
Younger workers and teachers taking the lead with social media and technology at Larbert also reminds me of other organisations and research that cite this as good practice.
Talent Magnets: Attracting and Retaining Young Teachers Through Courageous Leadership"
Mr Doherty, Mr Meikle and Mr Ried
I'm then met by Mr Doherty (
@MrDohertyLHS
) and my first impression neither surprises me, nor disappoints... But does excite me regarding the possibilities.
The interactions between staff as John passes his colleagues in the corridors are warm, friendly and seem very genuine... Indeed they remind me of the interactions between Chris Grant and his colleagues when I visited Alton College.
After the initial draft and outline of
Tech Story
, which looks at what educators could learn from Toy Story, I approached Chris to see if he'd collaborate on the article. I was keen to encourage others to consider the difference in culture between Chris and his colleagues compared with the relations between IT staff at other colleges.
I meet Mr Meikle briefly and am introduced to the Rector, Mr Ried, if you want a clue to the source of the positive interactions between staff, then read Adam Grant's book "Give and Take" and then look at the Rector's welcome on the school website;
If you're struggling to spot it, give me a call and I'll tell you what I see.
The Usual Suspects!
Staff make their way to the assembly hall to get an introduction to the day, where Mr Paterson (
@Mr Paterson1
) outlines what the session is about. It's a great introduction to the day and the rational is clear.
I'm inspired, but again, not surprised., not just with the professionalism of Mr Paterson's event and the educators at this school today, but also with my interaction with educators 3,000 miles away two years ago.
The assessment I had 2-3 years ago, as a result of listening to educators, seem to be coming through.
The staff at Larbert may have seen the day as PD on Digital Learning but, given the differences in our experience, knowledge and skills... I see it as something a little different.
I see this as educators selling products through organic word of mouth referrals and that this is
the future of EdTech sales
.
Class Dojo, Socrative, Edmodo, Twitter, Pinterest, iMovie, Smart Boards products that are either mainstream mass market products (Twitter and Pinterest) or ImagineK12 alumni (Class Dojo, Edmodo and Socrative). Most have Community Managers, while few exhibit at conferences like BETT or SLF.
And I bet Larbert didn't find out about them and/or sign up because they received a sales call once a month for 6 months either.
As I've mentioned in previous posts EdTech incubator alumni companies have better access to educators, investment and have fewer overheads to deal with in the early stages of the startup's life.
These advantages make like-for-like comparisons with companies who are not in EdTech incubators unfair ones (See
ROI Vs ROR A Tough Sell for Edu Suppliers
for more info regarding this point).
How to replicate the advantages that companies who are lucky enough to be in an EdTech hub and/or part of these incubators is a question I've been working on for a while now.
The Technology Adoption Cycle
As well as, or more accurately, as part of solving this conunderum... I've also explored how technology gets adopted.
Technology does not get adopted in a linear fashion. This is something I highlighted in my EdTech report
Developing Relationships and Delivering Value
in 2011, and I continue to try to raise awareness of.
At the moment, I am doing this through curating Twitter data in Scottish schools. Here's an example of what this data tells me about where Larbert is with the adoption of Twitter. They are approaching the "Late Majority" (See p26 & p39 of this
EdTech Report
)
With 130 staff and 58 on Twitter Larbert is approaching the "Late Majority"
Even at a forward thinking, innovative school with a great culture the adoption process takes time. Larbert High opened their first account in 2011 and have just under 50% of their staff on Twitter. But the toughest part of roll out for them is done... They've "Crossed the Chasm," when many Scottish schools appear to be at the start of this journey.
This is why I've been curating the Twitter data, and this is why I'm so excited about what I see at Larbert High. This result was far from a forgone conclusion, as there appear to be proponents and detractors. Ensuring that the right people assess a new product at the right time is key.
Here's the data that I've used and here's who the data tell me are the early adopters and proponents at Larbert are:
Tech Adoption Larbert High
You can see from this spreadsheet that people/department started using Twitter at different times, the frequency of use also varies. I've added columns to highlight who the early adopters and proponents are, as well as the "Early majority" and what appear to be detractors (ie people/departments who opened accounts but are not too active. Btw I totally understand and empathise with the tech skeptics).
If the detractors were the first group to try Twitter the story here may be quite different. But, in this case there were enough early adopters who were proponents who probably encouraged others to take a look at Twitter as a teaching resource.
This assessment is purely through interpreting the data, maybe staff can look at this and confirm if the accounts in yellow were the advocates/proponents/mentors for others with micro blogging?
Falkirk & Larbert - Raising A Digital Nation
As Scotland wonders "How can we innovate quicker with technology" I can't help wonder if the fault lines of creative disruption in Scottish education points towards the team at Falkirk Council and Larbert High School. If any School or Local Authority has similar (or more) traction with Twitter in their school than this:
List of Larbert High Department and Staff on Twitter
List of Carmuirs Primary Departments, Classes and Staff on Twitter
Regarding Larbert High School they are already using tools from Imagine K12's 2011/12 cohort, so what if...
They got to trial Imagine K12 (And other EdTech incubator) products from the 2014/15 cohort free of charge (or even in a way that they were compensated for their time?!), to build case studies so that roll out was organic? No more sales calls for educators, and reduced sales overheads for the startup founder?
I think I'll spend a little bit of time putting some sales hustle into selling this idea to a number of stakeholders.
I'll start with Larbert High, guys you're already using ClassDojo and Meet the Teacher... Here's how I met their awesomeness, and the criteria I used to assess what they were doing.
Sales & marketing departments must refocus away from selling products and toward creating relationships. Partnering with customers is a key component. The primary challenge here is not technical, but cultural
Geoffrey Moore, Crossing the Chasm