I've been busy writing posts to let the #The45Plus community aware of some things that people might want to consider regarding the culture of this massive group and considering ways that we might want to develop to help get organised. All this blogging means that I'm missing out on a lot of the chatter. So I thought I'd make an attempt at some #VoteYes type fun on #The45plus, so... let's have some fun!
Oh, but... before we do, usual caveat, and the usual nervousness, re publishing a message aimed at #the45plus. This is especially true as humour can sometimes miss the mark! Therefore apologies in advice, but hope you like these 2 ideas:
I heard someone on the news last night say something like;
"#The45Plus is divisive, I don't represent the 45, I represent the 100%"
I'm not sure who represents me 100%, because I couldn't even name my local MP or MSP, the only time I hear from them is when they want something from me. I used to say
"The candidate who dropped me a note saying "Thank you for voting" would get my vote the next time round"
In fact as the independent parties now have this army of foot soldiers the local "Yes" organisers could make this the first "5 minute favour" that you ask your supporters to do for #The45Plus, Yes, SNP, YesAlliance, Scotland is to knock on their neighbours door and say;
"With the highest turnout ever, on behalf of the SNP/Greens/SSP/Yes Allicance party, we'd like to thank you for voting and for making politics so popular that it's energised us.Oh... and by the way, is there anything I can do for you"
This last comment would be especially effective with the older voters who can't get out and about... Oh and hey, guess who is a tough to reach demographic to reach and convince when it comes to change... that's right the laggards, the people who don't like change.
I bet they'll like that change alright! A return of the neighbourhood being busy and getting Jane Jacobs chaos and diversity buzzing. Small act.
Huge
impact.
Any way I didn't get on here to be community minded. I came here to suggest that maybe we should show some of the #The45Plus detractors out there
What Divisive Really Looks Like! Bring It!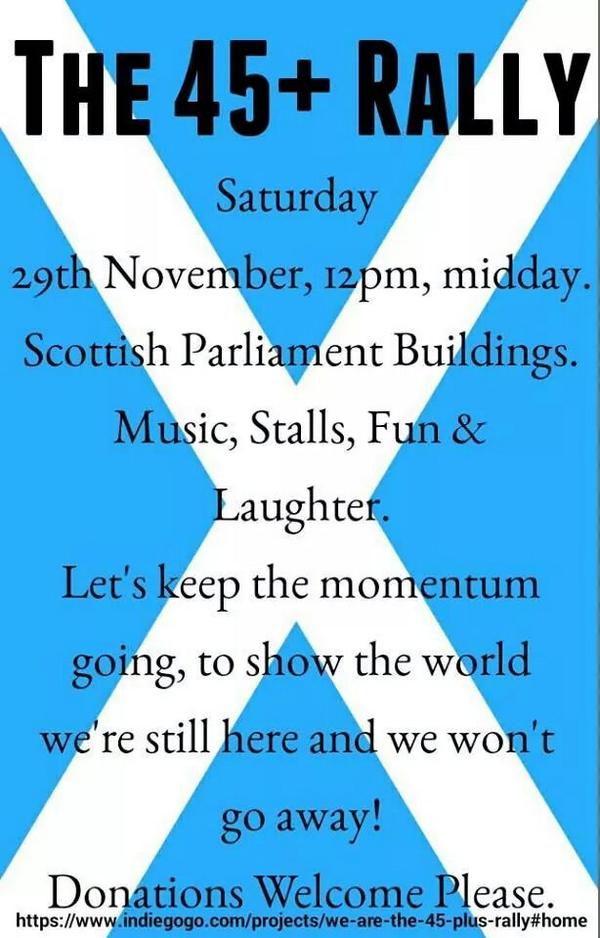 There's one of those pathetic party political meetings coming up on the 29th November and some deluded, grandiose politician thinks that if they post the event on face book it will have the same effect as a teenager posting on Facebook
"I've got an empty and I'm having a party"
And the politicians think that this will mean that things will get all out of hand. Lol!
Yeah, right! Like thousands of people are going to descend on Hollyrood like it's a Rave or One Direction concert. Anyway, just in case no one turns up let's see if we can cheer them up a little.
On this link below a list of all the Yes accounts I could find, I've downloaded the # of followers as of last night... Let's see which "Yes" account can get the most followers between now and the 29th November.
Go on, go nuts with each other argue like it was #indyref 2014, pull any of the kind of tactics that everyone did last week, hack into your parents account and follow your local "Yes," account open an account for your Granny and show her what it's like to say #The45Plus Yes! And if your a student please, for goodness sake get your teacher on Twitter. If they say "no," grass them up, come and tell me... I'll sort him or her out with this
EdChat Resource Plan
(Educators I need to talk to you but I can't do that if you're not connected!)

BTW We'll have no moaning that "Aw but I'm just a wee town compared to Glasgow or whatever... go get creative... go Twitter Twin with New York or something. So no moaning. No excuses like this, because... well.. that's like... well, it's just "like, SO Westminster man!" Just say "Yes" and go figure it out!

Thunderclap
Then on the 29th we can see if we can get the biggest Thunderclap Twitter has ever seen. This way, if no one Turns up to the party, the organisers will be able to console themselves with seeing all the Tweets.
A Thunderclap could be set for 12pm to kick the party off, maybe something like:
Yes Scotland Says: Thank You!
Dear Blair Jenkins, Twitter, the first of #The45 & the people of Scotland. #The45Plus Salute you for the change you have helped create

If you do have a thunderclap I think the Proclaimers might have an appropriate song that would fit in well with this.

Well that's me, hope you like. Apologies if you don't. MSP's apologies for the irreverence... just a bit of fun ;). Right off to work on the next post.