As my blog has been approaching the 100,000 page views, I have been reviewing my experiences with blogging. I am finding some weird and wonderful experiences with it all.
This post looks at how there is cause for hope and plenty of frustration... depending on whether I focus my attention on the innovation and pace of change at US startups, or within UK education. This week was a classic example of how different the pace of change is.
First of all please allow me to say a huge THANK YOU!! To everyone who has read my blog!
I would like to give a particularly HUGE SHOUT OUT to those who took the time to not only read, but engage with some of the posts that led to innovation and change. Getting involved has turned a random idea into something more because you took action. Your involvement has made a big impact, so thank you!
These projects have encouraged me to wonder if I should re-visit some earlier ideas I had in UK Further Education. I sent my first update in 12 months to my FE contacts who subscribe to my updates, which asked:
Is Declara an Opportunity of Threat to FE?
I had some really nice emails from people and look forward to exploring the issues in this update further. Last year the reaction to these plans left me wondering if there was any merit with what I was trying to achieve. Regardless of the reaction, I feel I'm on the right track.
I discovered and explored the work of Good Audience, Growsumo and Intercom this week too. Finding out about what these organisations do was a boost as I felt progress was being made with my attempts to re-skill from traditional sales to inbound marketing/social selling/community management.
What Do You Do?
Howard Scott is the Editor of the
Association of Learning Technologies Newsletter
, and asked if I would be interested in writing about any of my projects after I shared my FE update with him.
After exchanging some DMs and emails I received some feedback from Howard, where he highlighted that he was struggling to get a handle on what I did.
I can understand this and tried to explain how my various projects and research had led me to see the sales process as vital aspect in the EdTech ecosystem, but also under-rated... and, in my opinion, very much broken.
I enjoyed the discussion and appreciated Howard's feedback. Our conversation also demonstrated that there is a lot of work to do to with explaining the merits of some of my ideas and methods in FE... but in Silicon Valley these concepts are extremely advanced and well developed.
It's Not What You Do... It's the Way That You Do It
Since 2011 I have followed various discussions by different groups including:
Inbound Marketers: who have highlighted that cold calling will be dead within the next few years
EdChats: Have demonstrated how and why word of mouth referrals is the most effective roll out method
Books like Crowdsourcing: Highlight the potential of the collaborative economy
Reports like Teachers Know Best: Shows how ineffective a lot of EdTech is.
Through listening to these groups you can't help but come to the conclusion that you don't need to be making calls for good ideas to be adopted, so have been exploring this in a number of ways.
I wondered to what extent Howard's comments were because of where things are at the moment, compared to where they will be... and, more importantly, what might be done to facilitate the kind of change that would be required to make them work in education.
Through these experiences I have also come to realise the importance of timing, momentum and users co-creating when exploring new ideas. If used together they really can help startups (and potential users) in the search for that all important product market-fit, before going on to scale their idea.
When experimenting with these concepts I have been working on a number of projects at any one time. These can be at different stages and take different lengths of time before any meaningful results start to come through.
The existing model of education sales is that a sales rep will call 20-40 colleges a day to discuss the same product. I can see no difference from an operational perspective with someone engaging with 20 colleges on a regular basis to
co-create on a number of different projects
. However, the benefits with this alternative model could be significant for educators and suppliers.
Founders of these projects would not need to hire as many (or any) sales people in education, this would allow them to stay as small as possible for as long as possible... which could provide significant cost savings for the startup and reduce the amount of time educators spend fielding sales calls.
Cold Calling IS Dead!
I have been discussing these ideas for the last 4-5 years now, and BOY! Have I found making progress in FE and UK education slow going! I can struggle to be heard by policy makers involved with initiatives like FELTAG and to get buy-in for some of these ideas and proposed methods.
But when I shift focus and look at other sectors, it really can be a breath of fresh air! When I compared my experiences and plans with what Sherman Lee, Luke Swanek and Russ Thau do, I couldn't help get the feeling I'm on to something.
I read a great post by Russ Thau, Vice president of Sales for Intercom, called
Why Cold Calling is Dead
;
"Times have changed a lot... and so should the skills we value in a salesperson. For instance, I prefer good writing skills over good cold calling abilities any day... With high-quality, strategically promoted content, you can reach a much wider audeince than 50 calls a day, and know the people coming in are at least slightly interested in your product"
Under Traditional Models a Sales Person can come with overheads of $94,000
I found the same thing when I did a similar exercise looking at the cost of education conferences, which I detailed in
The Trouble with Conferences... Confessions of an EdTech Salesman
. My
#Get2ISTE posts
hopefully went some way to prove that alternative methods are more effective and efficient.
I've said for a while that the pace of the roll out of EdTech is dictated by the company's sales team, and Russ's figures support this.
How much cheaper could/would EdTech be if we were able to remove these overheads?
With thousands of EdTech companies sales reps calling and presenting to educators, what are the costs of college staff with fielding calls, addressing emails and attending presentations?
Is it the equivalent of a full time member of staff each year? My research estimated it at £30k
When researching my EdTech report some suppliers told me that they would be able to charge as much as 50% less than they do at the moment if educators were easier to engage.
Reduced costs isn't the only opportunity that educators could be missing out on because they are hard to reach and engage with. They could also be missing out on cost saving/revenue generating opportunities too.
Good Audience
In 2011 I wrote my
Business Development Ideas in FE Report
and suggested that there was both revenue potential and cost savings to be had by turning back room costs and shared services into additional revenue streams. Last month read a post by Dave Cooper,
Are Colleges Responding to Digital Disruption
, which picked up on these same issues.
"As I travel round the country I am finding education marketers are facing exactly the same problems I faced and require the digital tools and support to avoid the inevitable digital disruption"
Last week Good Audience Founder, Sherman Lee, sent me a link to a post that was interesting so I checked it out. Good Audiences' model of "providing dedicated marketing assistants so organisations can get back two hours of their life every day" are very much in line with these ideas.
Having just written to my FE contacts for the first time in 12 months there were a number of bounce backs, many of which were from College Marketing departments. Are there opportunities here I wondered;
Were these bounce backs due to budget cuts?
Were these marketing posts filled by others?
If not, what impact will this have on college admissions?
If they were, could partnering with Good Audience help generate more income?
Good Audience looks like it could benefit FE. More details about this in my next post, in the mean time which FE college would not benefit from someone with this kind of experience?
"We started this company really by accident. My wife started selling these t-shirts online, kind of like the ones Justin Beiber wears, and I was trying to understand how I could help her reach more people. These teenagers were all over social media, so I ended up following about 50,000 of them manually by hand and we ended up selling $30,000 worth of merchandise. So, I knew that, even though we were just messing around, there really was something there"
Sherman Lee, Founder Good Audience
GrowSumo
I checked Good Audience out further, as a few ideas were floating about in my head, this led me to GrowSumo who is "A partner program where people and organisations can get paid for recommending the products they love"
The potential for this with some of my UK and US connections in education and at other EdTech companies really does beggar belief! This could be a real game changer in a number of ways.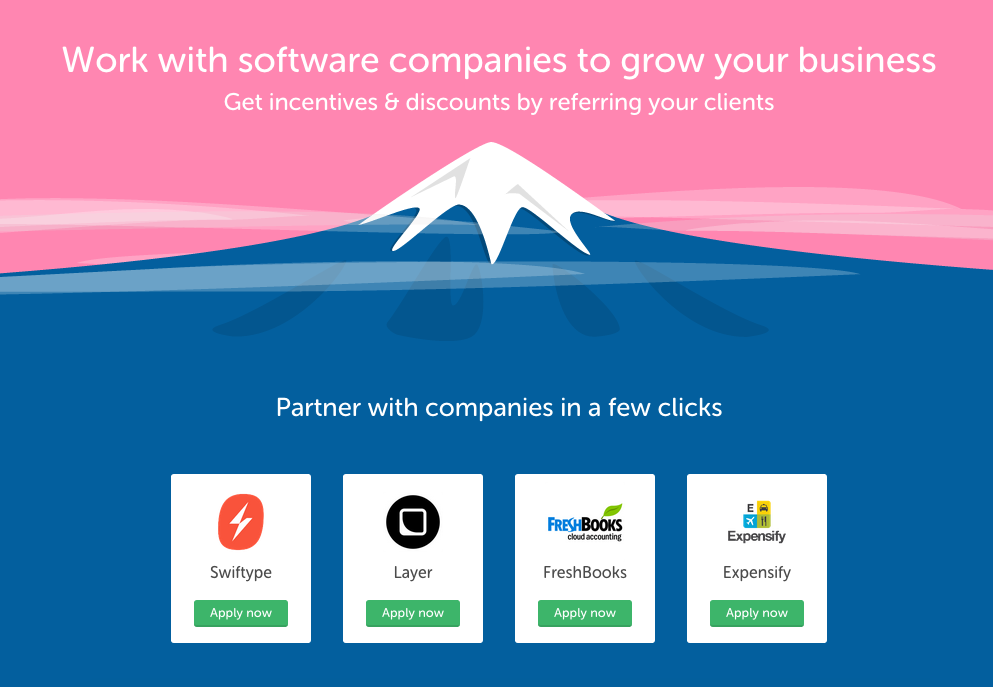 More on Good Audience, GrowSumo and Intercom in future posts, but on a personal level, it was SOOO good to hear about these Silicon Valley companies and how their work mirrored my research and experience.
Change When Change is Hard
I noted with interest that Sherman Lee and his colleagues tried to re-locate to the UK, but this almost killed their startup:
Trying to raise investment money in London almost killed our tech startup
I find this ironic given all the entrepreneurship programs I've seen come and go, or David Cameron wanting to see the next Google coming from the UK.
The latest big idea is commissioning Michelle Mone to head up an initiative in collaboration with the Department of Work and Pensions to see why people in disadvantaged areas are not starting up on their own... Boy the stories I could tell on this one!
But if my previous experiences with the political classes is anything to go by, this will be all flash and no substance... and will lead to little by way of meaningful change.
I know that both startups and affecting change is hard, but I have also found some serious challenges within UK Education. I also have more than enough evidence to believe that I would have such an easier time with a lot of my ideas if I were able to relocate to an EdTech hub like California or New York (Sigh).
Whether incorporating my ideas into an existing organisation or starting up on my own, while the approach has been refined, my ideas remain unchanged from 4 years ago. The biggest struggle has been with getting the necessary buy-in.
But regardless of the struggles and challenges I'm learning as I go, and continue to make the necessary adjustments. For example, I've known for a while that one of the biggest challenges that I'll face has it's source in the organisations culture. Articles like this allow me to learn, develop and iterate accordingly
Leadership Innovation
;
"Paradoxically, the analysis revealed that those employees, largely middle managers, with the most negative attitude toward innovation were also the most highly sought after for advice about it. In effect, they served as bottlenecks to the flow of new ideas and the open sharing of knowledge. A further analysis of the people in this group highlighted their inability to balance new ideas with current priorities and to behave as leaders rather than supervisors"
Getting a Handle on My World of Work
So in answer to Howard's comment, which may be relevant to other in UK Further Education Colleges and why people may find it hard to get a handle on my work:
I'm an ex-sales guy trying to figure out where the puck is going to land, the current models are dead (or are dying). I spent two years trying to make my ideas for improving the quality of products in FE while reducing the number of sales calls to colleges and sales overheads for the companies.
Things didn't go to plan so I have spent the last year looking for "Product Market Fit" in other areas of education and have spend the last 12 months testing my ideas by working on things that looked promising and then collaborating a few people to test the idea, with no expectations (and no sales calls), to see what happens.
This model has seen me move from project to project and write about whatever appeals to me. I agree with Russ Thau that you can reach a wider audience with some interesting content. My attempts at exploring these things are not without their challenges.
While there are plenty of jobs looking for traditional sales in Scotland, there are no courses in
My World of Work
for Community Managers or any jobs advertised for them... Neither are there many sales or business development roles that don't rely on cold calling and sending spam Vs inbound, social selling or content creation, reading Intercom's post was a breath of fresh air.
I'm not sure how it will all turn out in the end but, for the moment, I'll run with Sherman's advice he offers startups in this
interview with Good Audience Founder
, when asked;
What advice would you give to someone thinking of starting their own company?
Don't die! That's the only time a business will fail is if the founders decide to give up. It's happened to me at other start-ups and it's happened to many of my friends, they just no longer believe that they could do it and that's when things just stop.
I'm off to prepare for a meeting with Business Gateway in the hope of changing the status of my website, which has said "Coming Soon" for far too long.