I attended Glasgow's
Startup Grind
event last night, which was of particular interest as the speaker was Donald Maciver. Donald is the co-founder of Gael, a company that was sold earlier in the year for £21 million.
"Cashing out" of a business for £21 million had little to do with my decision to go along to this event. What was of interest, however, is that some former colleagues work at Gael, and said it was a great company to work for. I was keen to hear more about the culture.
I could see why my ex-colleagues enjoy working at Gael after attending the event! I thought I would compare Donald's humility, leadership, focus and attitude to sales with some of the great books that I've read... I also wonder if there might be some scope for some mutually beneficial Silicon Valley type co-opetition with some other organisations that could benefit students and businesses.
I've no idea how useful the way I have internalised the books I've read will be, how typical my experiences are or how compelling my interpretation of last nights meeting will be in this post... but it sure feels like my plans are on the right track, so thought I'd share my research and thoughts.
Regardless of how accurate my ramblings are, two things are certain:

1) I have sure found the books, Ted Talks and blog posts mentioned below to be extremely useful.
2) Given the changes that are taking place in sales and with support calls, I would encourage anyone working in these areas to check out some of the great books mentioned below.
Level 5 Leaders
As I've come to expect from books like Good to Great, the kind of "Level 5" leaders who are worth listening to and following have a very particular kind of humility, so they don't tend to attract the same attention as some of our celebrity CEOs.
We get a sense of this humility early in the fireside chat with Donald:
I'm not an entrepreneur, I'm just a guy that got lucky...
I
'm a retrospective entrepreneur
This reminds me of Darwin Smith's humility when he summed up

his extremely successful tenure at Kimberley Clark by saying, "I never stopped trying to become qualified for the job"
(More about Darwin Smith and Level 5 leaders can be found in this great article
The Misguided Mix-up of Celebrity and Leadership
)
Small Giant
Donald goes on to explain that he's not motivated by money, he cares more about doing the right thing.
One of the core values of a company that features in
Bo Burlingham's book Small Giants is
"We will always do what is right, even if it is not necessarily profitable"
I think that Gael would fit the profile of Burlingham's book which is about
"Maverick companies have passed up the growth treadmill—and focused on greatness instead.E
ntrepreneurs have rejected the pressure of endless growth to focus on more satisfying business goals. Goals like;
Being great at what they do

Creating a great place to work

Providing great customer service

Making great contributions to their communities
The similarities were not hard to notice as Donald spoke about having a profit share for everyone in the company, and bonus structures for people in all departments of the business, not simply the case of sales people getting commission.

Exit Strategy: Avoiding The Biggest Mistake Leaders Make
Looking after employees is demonstrated further when discussing the founders consideration for staff when putting an exit strategy together;
"My co-founder and I have a huge responsibility in the existing business. We have 120 people who helped us get there... we could have gotten another £3-4 million by selling Gael to other companies, but I would have sold my soul"
The founders also appear to have done all they can to ensure that the business merger didn't adversely affect the existing culture either.
But how did this entrepreneur "get lucky" enough to build a company that others wanted to buy? There are three strategic recommendations that Donald has for the startup attendees 1) The need for focus, 2) Working with early partners and 3) Doing the grunt work in your industry.

The need for focus
Segment your market and pay attention to each and every niche. Gaels competitors may categorise their airline customers as "the aviation sector", Gael broke the industry down to 8 sub-sectors and treated customers in each segment as a different market, all of whom had different priorities and needs from the other 7 sub-sectors so were treated differently.
If this was a lecture, it would be a text book case study with advice from "Why Startups Fail" and "Crossing the Chasm," both of which I was given kind permission to reference in my EdTech report:
Developing Relationships and Delivering Value
Working with an early partner
Gael found that Emirates "got" what they were trying to do, so they worked together to get product to around 80% of what this particular product would eventually become in the sector.
When the company moved into healthcare, the same model was applied. They worked with a pathology professor to iterate their way to product market fit. Today they work with 80% of pathologists in the UK.
Again this is text book stuff! Geoffrey Moore recommends that startups and companies that are new to a sector should;
"Get at least one visionary who is already familiar with you and partner with that visionary, in return for their support in the sector, to help remove some of the obstacles to getting the application adopted"
It is my belief that this approach will lead to sales being possible without the need of sales people. Conversely, to neglect these crucial early partnerships may well lead to significant problems with the sales process in the longer term. See
The Technology Adoption Cycle: Early Market Problems
section of this report for more information (Page 40).
Doing the kind of grunt work that no-one else wants to do.
Donald advocated for people to find the "unsexy parts" of your industry, the tasks that no-one wants to do and go for it.

I think that in any industry there are tasks that no-one likes doing, the CEO doesn't like them because it's a necessary evil, but is a drain on resources it doesn't add value or contribute to the bottom line. Staff don't like doing these tasks because they are monotonous and mundane.

The good news from a startup perspective is that the only thing that a lot of these tasks require is the only thing that a struggling startup or entry level employee has: Time.
Tribal Leadership
Donald discussed what he calls the three pillars for Gael, which detail their business aims. There were to
1) Crush Bureaucracy
2) Automate routine tasks
3) Data will inform of improvement.
When you add the way that Gael executes their plans, they sound a lot like Dave Logan's Tribal Leadership.
Gael makes strategic and operational plans based on the MindGenius mapping they developed. They come up with a strategic plan at the start of the year, then develop an operational plan, then its a case of get on with it.
"When you map something you can see where the gaps are... MindGenius is an incisive way of working, there is no hiding place"
The idea of data informing people where improvements can be made, as Gael work airlines, this data can help prevent fatal accidents.
Regarding the issue of automating routine tasks, this echos the sentiments of
The Best Service is No Service
and Amazon's guide to help other businesses to liberate customers from customer service, keep them happy and control costs. Add to this book case studies like
You can perhaps see why I am keen to reiterate these points 1) Scotland's call center industry is worth £84 billion 2) With results like Amazon's, Lithium and IBM these jobs are not going to be here in the medium-long term. 3) There are 0 courses in colleges or jobs advertised on job websites for community management in Scotland.
Sales and customer service is rapidly changing, if you're in these jobs get re-skilling... Explore Community Management, social selling and inbound marketing.
Sales & Strategy
I wanted to jump out my seat and start whooping when I heard Donald's take on sales. I saw the writing on the wall 3-4 years ago, and knew that there would be some short term pain with my own attempts to re-skill, but there could be some long term benefits too.

Donald explains his approach to sales and feels that three different types of sales people are needed to deal with three different kinds of customers
I Want it: When you present an early concept to a customer, it's nothing more than an idea on a whiteboard. Some customers won't get the idea, whereas others will see an opportunity and it may be a discontinuous innovation that provides a competitive advantage.

To give an example, the music industry dismissed and confronted digital music via law suits. Steve Jobs saw the emerging technologies of mp3 players and Napster as an opportunity get a jump on the competition. Visionary customers like this may expect to see some radical changes between old methods and the new.

You need sales people to collaborate and co-create with these early customers. Those who dig deep and have a proper engagement with the early adopters who help develop the idea.

When looking for people to fill these roles Donald looked towards his operations team, they knew the product inside out and could have more detailed discussions around functionality etc.

This is how I ended up in the dark art of field sales. After 4-5+ sales people failed to get traction on a project I was asked if I wanted to give it a go as I had operational experience with the service.
Partnering with "visionary" customers is key to
informing the "pragmatist" mainstream mass market
You can have it:
As word spreads within the industry that Gael was doing good work with Emerates and other early partners, the "early majority" would have become interested. This is when traditional sales people would have been successful with getting new clients.

The early partnerships have the case studies that convince the early majority that this is a "safe" product to buy.
You've Got It: From what I could understand these were customers who had bought the product but they needed a certain amount of guidance. It sounded like this was the laggard market, who can tend to need a lot of support.
Through exploring the sales process over the last few years I understood these ideas but in a slightly different way, Donald says he's not sure that there's a sales person that could do all 3 types of these sales jobs.
However, if we swapped the profile of sales people with customer profiles, the technology adoption cycle... and some ideas I've been exploring and some initial pilots, I would argue that no sales people would be required.
I believe that roll out without sales people is possible, something that my good friend (Who I've still never actually spoken to)
Nikki Robertson has helped test.
Marketing
Donald changed the word marketing to "demand generation," the reason for this was to highlight that the role was to stimulate demand and make things happen.
This sounds like the cornerstone of everything I'm working on at the moment, subscribers to my blog might be able to guess what it is... Yep! That's right, it's good old social proof;
"
No leader can hope to persuade, regularly and single handedly, all the members of the group. A forceful leader can reasonably expect, however, to persuade some sizable portion of group members. Then the raw information that a substantial number of group members has been convinced can, by itself, convince the rest. Thus the most influential leaders are those who know how to arrange group conditions to allow the principle of social proof to work maximally in their favour"

Robert Cialdini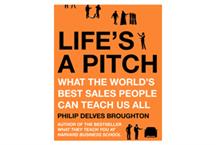 I had to blog every day for a week to take the raw information to address the objections with
#Get2ISTE
but we got there in the end and managed to find 7 early adopters, and fund 4 of them.
Paint a picture
Donald spoke of the need to paint a picture whether discussing the companies long term vision and to get buy in from staff, or when speaking to a CEO to get them to buy your product.
"When you visit the CEO of an airline your value proposition is 'I can help prevent accidents' instead of our software and help with your compliance on XYZ aviation safety requirements' you blow the competition away"
Nancy Duarte, MIT, Stanford and Shane Snow all advocate the importance of telling a compelling story these days. Duarte through her Ted Talk, MIT include "Made to Stick" as recommended reading. I also like Shane Snow's blog on the topic "
This will be the number 1 business skill in the next 5 years
"
Mapping the Future
Donald highlighted that he doesn't think about the competition, he's concerned about his customers, stakeholders and society. This reminds me of one of my faviourite articles,
Collaborate Vs Collaborate
, where Thomas Friedman sees part of Silicon Valley's success due to the way that startups in the same space are in "co-opetition" with one another.
"There are many examples here of companies trying to kill each other in one market, but working together in another — to better serve customers. Microsoft Windows runs on Apple Macs because customers wanted it. When Apple Maps failed, Apple asked its users to download Google Maps... it is understood that to thrive in today's market, solve the biggest problems and serve customers, you need to assemble the best minds from anywhere in the world.
When you obsess about the customer, you end up defeating your competition as a byproduct," said K.R. Sridhar, the founder of Bloom Energy, a fuel-cell company. "When you are just obsessed about the competition, you end up killing yourself" as a byproduct — "because you are not focused on the customer."

I have been digesting books like the ones mentioned above in an attempt to make my skills current, and feel I might be on the right track.


Donald is now working on a mind mapping initiative called MindGenius, which was established in 2001, and is the a method that Gael used to develop the strategies that enabled him to build his successful business.
Education-Entrepreneur Collaboration?
The founders at HOW2 have also done a lot of work on Model Mapping, and this was their core business before iterating their way to working on infographics for teachers CPD. Prior to this they turned the school that they worked at around using visual tools like Model Mapping and their CPD guides.
Educator-turned-entrepreneur and a successful entrepreneur who's "cashed in" both working on the same area. What are the similarities and differences?
Given my last two posts based on the need to consult the experts, I hope there might be some scope for the educators who have been extremely successful in the classroom to collaborate with the retrospective entrepreneur who built a business on a Genius Mindset.
In my opinion, these are two organisations who are operating at a high standard when it comes to culture, mindset and their commitment to quality product and the customers experience. It also appears to me that they have complimentary skills... and both have a vision of doing work that's for the good of our kids so they achieve more.
Will we see organisations like this collaborate in education? I've no idea, but I'll continue towards my own goals, one of which includes
competitor collaboration