I've been exploring some ways to help the educators who have signed up to Pledgecents #Get2ISTE cause. This research has led to some ideas that might be useful for Scott Rocco and #SatChat's "
Connect an EducatorDay
."
I hope that the findings below might also be of interest to the wider connected educator community, EdTech suppliers, ISTE exhibitors and education conference organisers.
After spending a week or so consulting with educators on the merits of
Pledgecents Get2ISTE
, a few educators have now signed up to the idea.
However, after successfully addressing the various objections with educators, the concept and idea has stalled a little.
This time the issue is due to the level of contributions made: only $268 has been contributed against a total target of the $6,400 needed to get Brian Smith (
@1to1Brian
), Leslie Kinard (
@LMKinard
) and Cassie Dahl (
@FunkyinFourth
) to ISTE.
Oh! My apologies, it was $6,400, but... thanks to PledgeCents generous offer of sending someone to ISTE if they signed up to #Get2ISTE by 5th April, I am delighted to report that Nikki will now be going to ISTE!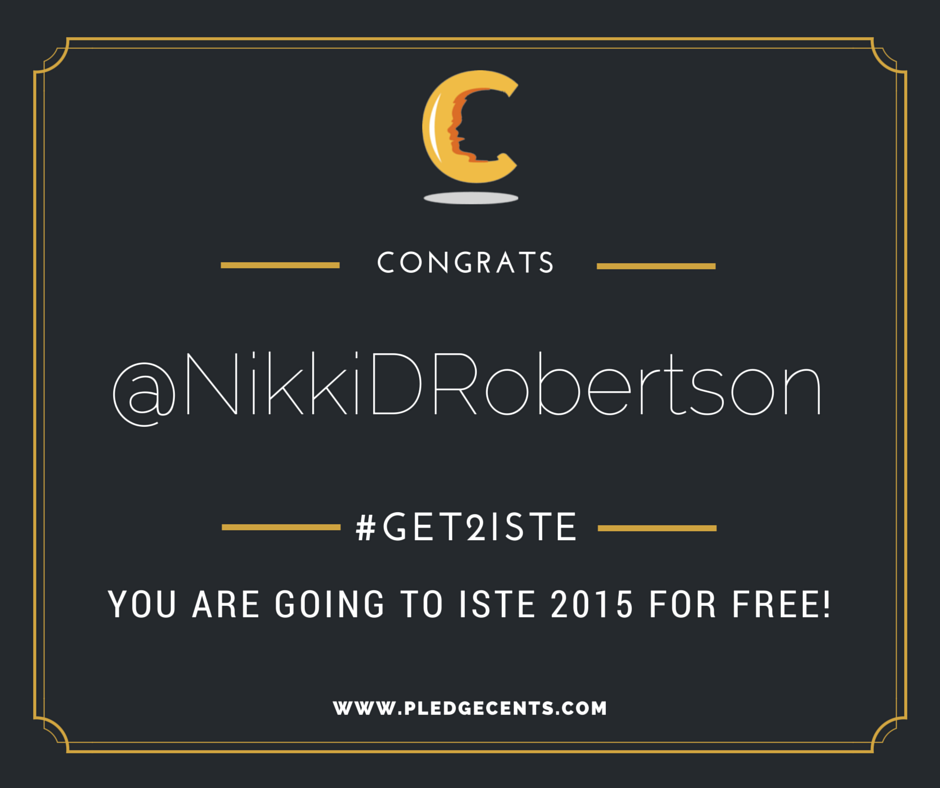 But more support is needed. So, where to look for people to support the idea? Let me think? How about a group of people who want to engage educators?
What about a group that are so keen to do so that, collectively, they have no problem spending $2 million dollars on exhibition space? But how to engage the various stakeholder? The same as always...
"Take the raw information [and hope] that a substantial number of group members can be convinced... by arranging group conditions to allow the principle of 'social proof' to work maximally in their favour"
It's taken almost a full week to gather this "raw information," so I sure hope it helps!
Lead Generation
So I spent the week sourcing the contact details for suppliers from ISTE's exhibitor page, the company's webpage, LinkedIn and Twitter. These leads can be found on the following links;
ISTE Exhibitors 2015
ISTE Exhibitors 2015: Social Media Links
ISTE Exhibitors 2015: Twitter Stats
Selling Change
Various groups may be resistant to this idea;
Educators:
Despite ISTE being a great source of PD and/or a sure way to guard against burnout, some educators may not be entirely behind the idea. That's fine, with a pilot of 4-8 people we can explore this and see what lessons we learn along the way.
Event organisers:
A diversion of any marketing spend could be seen as a loss of revenue to the organisers, when in actual fact it needn't be, and isn't, the case...
This is a new opportunity, it's a "Blue Ocean Strategy," at best it's an additional revenue stream; at worst it's an alternative way of retaining existing levels of spend.
This idea could also lead to more repeat bookings year on year from suppliers. For more information on how and why this could be beneficial to event organisers please see:
#Get2ISTE Advantages for Event Organisers
Suppliers:
May see this as an additional expense, and a cheeky one at that!
"Why should we pay for someone else's travel to ISTE, it's expensive enough to send our own guys, never mind covering the costs of teachers too"
At the ASU & GSV Summit this week I saw Tweets along the lines of "Private education spends 5 times more on Professional Development than state education," so I would argue that this is one partner in the EdTech ecosystem supporting another.
Some suppliers may prefer to see this as a marketing or PR opportunity. In which case they may want to wonder how many more people will visit an exhibitors stand, and/or how much more attentive the audience would be if there were 8 teachers who would not be at the event if it wasn't for the suppliers' contributions? You know what... I have no idea either!
However, for the sake of $20-40 from each exhibitor, the costs Vs benefits sure seems worth it to find out! How happy do you think Nikki Robertson will be to see PledgeCents, who helped
#GetNikki2ISTE
and vice versa? If they didn't work together or collaborate in the past, I'm sure this will be far more likely now... and boy! Can Nikki sell!
Shrink the Change & Be the Change
In their fantastic book "Switch: Change when change is hard" Dan and Chip Heath recommend that you "Shrink the change" break whatever you are trying to do down into bite sized chunks... (Maybe into something like a 5 minute favour).
A group of 500 suppliers who will commit $4,000 for a 10x10 foot space... That's before we get into the costs of travel, signage, brochures etc.
So highlighting that if every ISTE exhibitor was contribute $13 we would get these #Get2ISTE early adopters to the event, it seems like some small change indeed. Small change, but big difference to Brian Smith (
@1to1Brian
), Leslie Kinard (
@LMKinard
) and Cassie Dahl (
@FunkyinFourth
)
If educators want to see any change here, you have the contact details of this years exhibitors (All of which was publicly available). If you would like to see something like #Get2ISTE to be tested, why not get in touch with them. Through the information above you can email, connect on LinkedIn or send out a Tweet.
If enough educators get in touch and express a desire for change then maybe exhibitors will listen and respond accordingly.
If people don't respond then clearly the demand isn't there and the idea hasn't really cost too much, the concept has "Failed Fast and Failed Cheap."
However, I hope that I'll be forgiven if I present this post during #ISTE2015 if and when anyone feels compelled to complain about vendor sales practices. Lol ;)
Connected Educator Day: Suppliers
When sourcing the information above, I noticed that some 63 ISTE exhibitors did not appear to be on Twitter, I also noticed a few accounts that were relatively inactive. So I explored this further. Of the 501 exhibitors on ISTE's website, I found that;
406 Companies had Social Media icons on their website
419 are on LinkedIn
434 Are on Twitter
368 have a link to Facebook on their website
190 have links to YouTube on their website
Please see this spreadsheet for more information:
ISTE Exhibitors 2015: Social Media Links
This got me thinking about "Connect an Educator Day" on 2nd May, as well as conference Tweets. So I explored this further. I looked at the number of tweets and followers that this years' ISTE exhibitors had.
What was I looking for here? There is perhaps the assumption that there are whole teams of social media experts and training provided for sales and marketing staff.

But what if the reality was a little different? What if there wasn't much support for the people who are Tweeting on behalf of the company? The stats suggest that there might be something to this;
73 Accounts which have posted less than 200 Tweets
Almost 100 ISTE bound suppliers have less than 200 followers
Add this to the 63 suppliers with no Twitter presence at all
Please find the data on this spreadsheet:
ISTE Exhibitors 2015: Twitter Stats
Could as many as 30% of education suppliers use some assistance with getting to grips with social media? There are all these EdChats to help educators to get comfortable with and make sense of microblogging, but what assistance is there for #EdTech suppliers?
This also ties in with some of the analysis others have done with education conference Tweets, where some 30% of conference Tweets are "a bit salesy,"

Maybe any assumptions that companies provide staff with social media training is a wrong one. What if the extent of the social media training is a Managing Director saying;
"Get on social media... I read an article that it can generate sales. Get on social media and start selling!"
Could and should "Connect an Educator Day" include supporting suppliers?
EdChats: Suppliers Welcome
This weeks' EdTechBridge chat was all about where suppliers can go to get feedback. A great deal of the chat and recommendations depended on geography. I Tweeted something like "I wonder if people in the US were aware how lucky they are with the infrastructure that they have" with all the EdTech events: Hack Edu events, startup weekends, EdCamps, unconferences etc.
For various reasons my main and only source of getting feedback from educators is online and, in particular, via Twitter and EdChats. I would also have thought that there was a argument to be made around the statement that;
"Suppliers who are proficient with Twitter and who join EdChats and/or know where to go to get feedback, develop better products"
I could provide plenty of anecdotal evidence of this. Speaking from experience, getting feedback on ideas through Twitter has been invaluable... whether as the source of new ideas or to see if current plans and projects are on the right track..So, given that;
We have Connect an Educator Day almost upon us
ISTE is not too far away, and
There are 8 educators who are looking to #Get2ISTE
How about "Connect an Educator Day" events that includes something like
Connect with Suppliers Week
As part of "Connect an Educator Day" would it be an idea for chats like #SatChat, #DigCit, #NT2T, #EdTechChat and #EdTechBridge (As well as any others that want to take part... I have specifically mentioned those due relevance), to have topics designed for suppliers? What might be some of the outcomes here? Maybe that;
1) It can help moderators grow their Twitter chats
2) That suppliers get an idea of the kind of engagement that educators would like to see, which could lead to
3) Less of the "salesy" Tweets and unwelcome practices that educators have complained about regarding suppliers tactics to get attention conferences
4) As online engagement leads to offline collaboration... Could we see new ideas and improvements made with EdTech?
I've no idea... But as my good friends at FELTAG would say "What have we got to lose?"
Maybe we'll see instant online engagement with offline collaboration and 8 educators who are trying to get to ISTE will make it there.
Anyway I'll leave you with this supplier data and these ideas, but hope that provides some food for thought for #Get2ISTE, for connect an educator day to include suppliers and general edu/EdTech relations.
If any ISTE2015 exhibitors have found the stats compiled useful and/or feel this post has helped in any way please do feel free to contribute to these
Pledgecents #Get2ISTE causes